Cinematic Aspirations: Pair of Undergraduates Land in Cannes
Thursday, March 5, 2020 - 10:25 am
Marcus Wilkins
For Roxanne Wan, the divinity is in the details. Whether it's tiny flour-coated fingers rolling out dumpling wrappers, static electricity mussing a boy's hair as he prepares for bed or a mother delicately latching the bedroom door after whispering goodnight, Wan's camera lingers and lounges in these moments.
It's an instinct that hasn't gone unnoticed by her digital storytelling professors — or the jurors who select films for the world's most prestigious celebration of cinema. Wan is one of two Mizzou undergraduates whose films will screen at the Cannes Film Festival in May. Her five-minute short Moments is an ode to Chinese mothers and children in Columbia.
"Being an international student in the United States has helped me understand that we are all so much alike," says Wan, a senior from Weishan, China. "There are many more similarities than differences, and people don't always realize that."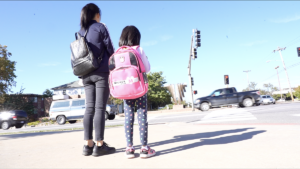 Fanxi Sun's short, Her Diary, is a visual representation of passages from her personal journal. The subtitled, black-and-white film pairs tactile images in nature with Sun's introspective poetic reflections.
"I was trying to figure out something visually that aligned with what I wrote," says Sun, a senior film studies major from Zhejiang, China. "I'm intrigued by the forest and trees in Missouri, because I grew up in a city."
Both films were selected through Campus MovieFest, an international college competition that supplies participants with filmmaking equipment and gives them seven days to produce their work. The strict format highlights the young auteurs' cinematic intuition, and of 1,700-plus submitted films, only 38 were selected to be shown in the Short Film Corner in the Marche du Film at Cannes.
Sun and Wan also participated in the 2020 Visual Art & Design Showcase (VADS). Sun submitted a photography series titled Somewhere, a set of black-and-white photos depicting images of vulnerability and sensitivity inspired by her love of Japanese novels. When she's not in class, Sun hones her videography skills as an intern for the Visual Production Services team in the MU Academic Support Center (ASC).
"Technologically, Fanxi is a natural," says Nicholas Benner, senior media producer at ASC. "You show her how to do something once and she totally gets it."
Wan's VADS film, Cigarette in Love, is a sensual and allegorical rumination from the perspective of a lit cigarette. The short received the Ragtag Cinema Video Award and is currently screening prior to select features at the local theater. And Wan herself will spend even more time at the venue volunteering in theater operations for the True/False Film Fest.